Yorkshire Community Description



Community: Yorkshire of Williamsburg is a beautiful residential community of 45 single-family properties. Building lots range from one-half to three-quarter acres and homes in the community have at least 2,200 square feet of floor space. The houses are primarily brick colonial-style and all utilities in the community are underground. Property in Yorkshire is held and sold subject to restrictions and covenants that are imposed to protect the value and esthetic nature of the community.

Location: Our community is located in the southeastern part of the Commonwealth of Virginia, between the James and York Rivers on the Virginia Peninsula. The community is in the City of Williamsburg and is within walking distance of Colonial Williamsburg and the campus of College of William and Mary.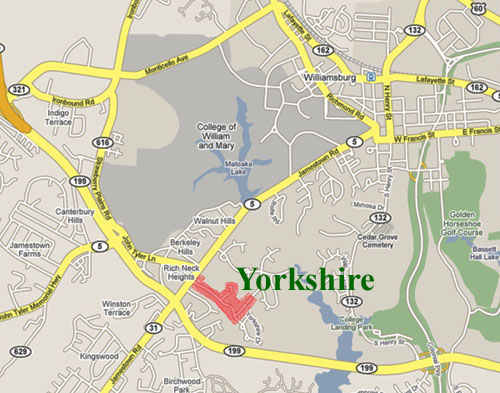 Historical Context: Yorkshire is located in one of the most diverse historical areas in the United States. Many native American tribes lived in the area for thousands of years. The first permanent English speaking settlement in the country was established in 1607 at Jamestown, just 6 miles south of Yorkshire. In 1698, the colonial capital moved from Jamestown to Williamsburg, to be on high ground between the James and York Rivers. During the 18th century, Williamsburg became the center of political events leading to the Declaration of Independence. The American Revolution ended with the surrender of British forces at Yorktown, just 16 miles east of Yorkshire. During the Civil War, McLellan's peninsula campaign fought many engagements near this area. In 1926, the Reverend Dr. W.A.R. Goodwin, rector of Bruton Parish Church, shared his dream of preserving Williamsburg's historic buildings with philanthropist John D. Rockefeller Jr., and the restoration began. The work progressed and expanded to include a major portion of the colonial town, encompassing approximately 85 percent of the 18th-century capital's original area.

Attractions: The Historic Triangle of Virginia, which also includes Jamestown and Yorktown, is a very popular tourist destination, with Williamsburg located in the center. The three locations are linked by the Colonial Parkway, a 23 mile National Park Service Scenic Byway. The toll-free Jamestown Ferry is located at the southern end of the Colonial Parkway. State Route 5, another very historic byway adjoins several important ante-bellum plantations and links Williamsburg and Richmond. Other attractions include the Busch Gardens theme park, and there are many other attractions in neighboring Norfolk, Hampton Roads, and Richmond.